OnlineDivorceTexas Review
How does it work?
Onlinedivorcetexas.com is a platform designed specifically for those who are about to start an uncontested divorce. On the website, divorcing couples can prepare their divorce papers using self-guided software and thereby can save thousands of dollars on legal costs.
Like any other similar company, they ask their prospective clients to check their eligibility before signing up. After customers sign up with their website, they are offered to answer a few simple questions. The provided replies are then used for filling out their forms. Since the document prep process is very simple, customers should neither understand a legal language nor be aware of any aspects of the divorce laws established in the state to have their documents prepared.
Once the forms are filled out, they are sent to customers by email. The forms are ready to be printed and submitted with the court-house. Onlinedivorcetexas says that their customers are always provided with detailed guidelines on how to file their packets avoiding common mistakes.
If customers need some instructions on how to complete their questionnaire, face problems navigating the website, or have any other issue, they can always contact their customer support professionals either by phone +1 424 322 2425 or by email (info@onlinedivorcetexas.com) and get helped.
What do they offer?
At Onlinedivorcetexas, they promise to provide their customers with accurate court-approved forms that are filled out following with their replies. Their managers carefully treat every application so that every customer can get a personalized packet in the end. They say that their customers shouldn't go anywhere as they have everything needed in one place: they provide all documents, including a petition, property division, and other forms that can be easily prepared on their platform without outside help.
Along with complete divorce packets, they give their clients easy-to-follow instructions on what to do with their documentation next. On the website, there is a Q&A section, where they produce some useful information about divorces in the state. They stress out that they are not a law firm and therefore their service cannot be considered as a substitute for legal advice. So, if their customers need legal backing, they should look for it somewhere else. However, if they have some basic questions regarding the website, its navigation, etc., they can always contact the company's friendly customer support agents. Overall, the company offers:
Accurately prepared divorce documentation required by the state of Texas;
State-specific instructions on how to file;
A short interview that can be completed by customers at their own pace;
A customer support service that can be obtained either by phone or by email.
What does it cost?
The cost of using onlinedivorcetexas.com is only $139, which is a relatively low price on the market. Customers can also benefit from special discounts and seasonal promos offered on the website on occasion. When they buy the product, they have forty-five days to complete the interview and have their docs prepared. If they fail to provide their replies within the mentioned time space, they are charged $24.99 additionally. After this usage period, they will have to extend access to their accounts every month unless they notify the company that they want to get their profiles canceled. Instead of a one-month subscription, they can buy a 3- or 6-month one for $49.99 and $99.99 respectively.
Also, their customers are additionally charged 50% of the initial price if they forget to mention that they have kids/property/ debt/ etc. during the interview and want to add this information at a later date, need to change their names (more than 4 letters) or the state where they are going to file, or want to switch a filing party. Like most other similar websites, they don't charge a filing fee, too.
Guarantees
The service provider guarantees a full refund if there was double payment or within forty-five days after the product was bought and none of the questions was answered, or if the forms were not accepted by the court (the packet must be submitted with the court within 30 days after it was sent to the customer). In other cases, such as when not more than 24 questions were answered, or when the questionnaire was completed but the forms were not filled out, or when the paperwork was done but customers didn't download it, they can get 70%, 50%, and 25% refund respectively.
Also, they guarantee that all information that they gather from their customers and use for preparing their divorce documents is properly protected.
OnlineDivorceTexas testimonials
We didn't find any information about the experience of their former clients on the Internet. However, there are two positive onlinedivorcetexas.com reviews on their website. Their customers are thankful for the provided assistance: they state that the company has helped them to save a lot on attorneys so that they didn't have to run into debt to pay high legal costs. There were no complaints found on the website itself.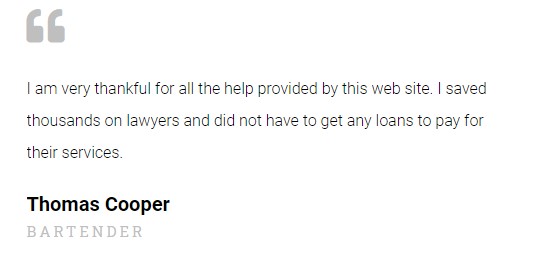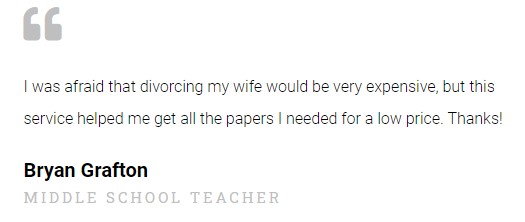 Verdict
The company helps divorcing couples prepare their forms for uncontested divorce at a reasonable price. They don't give any legal advice; however, they provide instructions on how to submit those forms with the court. The company guarantees that they have only court-approved forms, but if customers have their documents rejected, they can rest assure that they will get their money back. On the website, they say that they work with couples who have/don't have kids and, if needed, they can help with preparing property and debt division forms, as well.
Even though we didn't find any negative onlinedivorcetexas review, we believe that some issues should be improved:
We didn't see a live chat window on the website and thereby can conclude that they don't have one. Also, they don't have any contact form on the site and thus can be reached out only by phone or email.
They don't have any onlinedivorcetexas review anywhere but their website. Therefore, their prospective customers may throw their trustworthiness into question.