How does it work?
On paonlinedivorce.com, they allow their customers to access all forms needed for filing for a collaborative divorce in the state of Pennsylvania.  They say that they simplify the divorce paper preparation service so that every customer can initiate their divorce within the shortest time possible.
On the website, it is said that their customers can have their paperwork done in three easy steps, which are all about sighing up with the website, completing a short questionnaire, and getting a full divorce packet, which is ready to be printed and submitted with the court, online. They ensure that their highly-experienced divorce paper experts work hard to provide their customers with up-to-date case-specific forms that are 100% court-approved.
If customers have any questions regarding the company's services, they can contact their friendly customer support staff and have their all issues addressed. Their support agents are always ready to help either by phone or by email (inbox@paonlinedivorce.com).
What do they offer?
Paonlinedivorce enables their customers to get their divorce forms prepared within half an hour without the need to hire a lawyer or search for the needed forms themselves. After clients answer a few basic questions, they get a full divorce packet that is ready to be filed. The complete documentation can be accessed by both spouses through the website with ease if, of course, one party doesn't mind sharing login info with another one. Customers can edit their information whenever they want to; however, they should note that they may be charged additionally for making particular changes.
On the website, every customer can find some useful info about a divorce process in the state, including basic facts and costs. The company states that using their website helps customers save much money on an attorney and claims that it is much faster to prepare divorce docs with them than to look for the needed forms and filling them out on oneself. Also, they promise that they will not send any spam information to their clients' emails.
What does it cost?
On paonlinedivorce.com, every customer is charged $139 for a full divorce packet no matter whether or not they have children/assets/debt/etc. It is a flat fee that provides all customers with access to a short interview. Upon completion of the latter, every couple is sent papers that are ready to be filed. The instructions on how to file documentation are provided to everybody for free.
However, if customers need access to their accounts forty-five days after their first payment has been made, they will need to extend their subscription by purchasing a 1-month extension for $24.99, 3-month one for $49.99, or 6-month one for $99.99. If customers complete the questionnaire and download the prepared papers within the usage period of forty-five days, they should ask the company to cancel their accounts.
Also, customers may be charged 50% of the initial fee after their forms have been prepared if they:
·     Fail to provide information about their kids, property, and debts in time;
·     Need to change the state where they will file their documentation;
·     Switch a filing party;
·     Need to change the provided names (more than 4 letters).
For more information about what else they may charge for, read their "Terms and Condition" section carefully.
Guarantees
Paonlinedivorce gives a 100% court approval guarantee which, however, is standard for other similar service providers found on the Net. If something goes wrong with the payment or the court rejects the prepared forms, customers can request a full refund and get it if they:
·         Make double payment by mistake (and notify the company about this issue immediately);
·         Have their papers rejected by the court (if the forms are filed within thirty days after they have been prepared).
To learn more about other cases in which customers can get a 70%, 50%, or 25% refund, it is recommended to read the "Refund Policy" section on their website. Note that extra services, discounts, and promotions are not subject to any refund.
PAOnlineDivorce testimonials
On the website, there are many paonlinedivorce.com reviews that are predominantly positive. One company's former customer says that they have excellent friendly customer support service that provides timely assistance. There are also many satisfied clients stating that they were very surprised to receive their divorce papers this quickly. One more paonlinedivorce review says that their instructions helped the couple a lot to file their packet in one go, and all the forms were accepted by the court without any questions asked.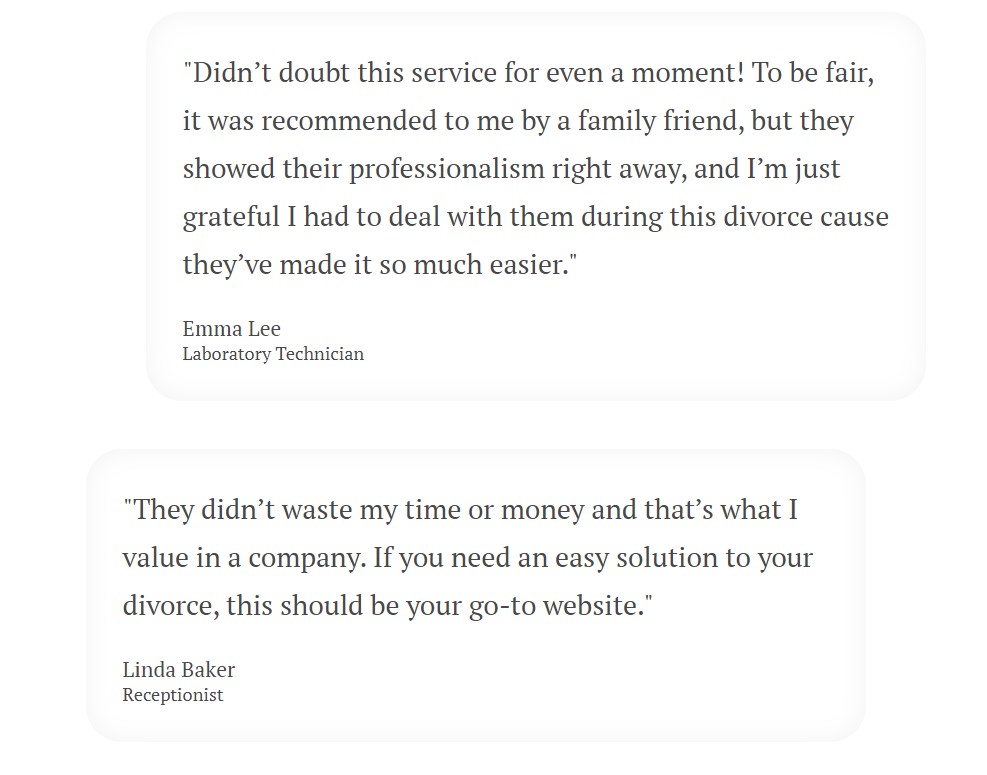 Verdict
Given the fact that there are online companies charging their customers a few hundreds of dollars, the company has relatively low prices on the market. Therefore, it is a great saver for those who seek to have a fast mutual divorce cheaply. Since there are many more than one positive paonlinedivorce review left by their clients on the Net, we can say that this service is reputable. Their customer support agents work hard to deliver the best user experience and thereby are ready to lend a helping hand either by phone or by email when needed.
On the website, there is much useful information about divorce in the state of Pennsylvania, including current requirements and prices. They say that they work with couples with and without kids. Since they have a flat fee, no matter how many kids their customers have or how much property and/or debt they need to divide, the price remains unchanged. The company offers forms that are specific to the state of Pennsylvania, which is rather convenient for those who are going to file there. On the other hand, their service is not suitable for residents of other states, which may be considered as their main drawback. The fact that they don't give legal advice may be viewed as another disadvantage of the company, too.