How does it work?
The website CompleteCase.com is very simple to use, and you can get your divorce in just three steps. The first is to determine if your case matches a CompleteCase online divorce. Second, you must have an online divorce interview any time that's convenient for you. Finally, you print and file all the completed forms.
The CompleteCase platform allows you to complete all the required divorce documents quite quickly – it might take you less than half an hour to complete all the forms you need for getting divorced. Clients will have a very short online interview with CompleteCase consultants. After the interview, clients can have access to all the forms they require. With the help of Completecase.com, you will not need to spend a lot of time filling your papers out properly. The main reason why this service accelerates the process is because all the divorce documents on the platform are customized according to your case information. Such information might include your state, the presence or absence of children, your financial situation, assets and some other factors. Furthermore, if a client has any difficulties with using the site, it is possible to get in contact with the customer service department using the online form or by telephone at 1-877-282-0944. CompleteCase clients can get the necessary information from their client or technical support representatives at no additional charge. The CompleteCase support center works 24/7, so that clients can get all the important information at their convenience.
What do they offer?
If you decide to use CompleteCase, you can get a range of different services. The platform provides its clients with only up-to-date forms, which are usually accurate and accepted by the court. As a result,  your divorce process will go quickly and peacefully. Moreover, the speed of the divorce process makes it the optimal solution for military personnel who are often abroad.
In addition, you can get juridical advice from their experts in the most convenient form. Usually CompleteCase clients do it by email or phone. Moreover, CompleteCase clients can get some legal advice from local attorneys if they need a more detailed consultation. After completing all the required forms, you can make as many changes as you need within 30 days. Last but not least, the platform provides such services as last will and testament completion (the value of this service is usually about $500).
What does it cost?
The system of accessing and paying for using the platform is quite simple. A one-time fee will be charged from your credit card once you register. Currently, the one-time fee at CompleteCase is $299, which saves you up 93% since you would pay $1,500 to $3,500 for an attorney. However, if you compare this price with CompleteCase's competitors, you can see that is similar or slightly high for this type of service. Without any doubt, it is possible to find a platform that offers the same service at a lower price.
After payment you will have full access to your account and all forms for 30 days. Furthermore, clients have the right to get back into their account using the registered email address and password to change something in the forms or reprint them. There are no additional fees for using CompleteCase to help you to get through your divorce. Furthermore, the website can offer a number of additional services that might assist you in this process. Court filing fees are not covered by website fee, and you will have to pay them separately from the one-time service fee. These filing fees usually vary by county.
Guarantees
CompleteCase provides its clients with a 100% Court Acceptance Guarantee that helps them feel confident when choosing their help. However, it is necessary to mention that this practice is quite common for all online divorce services.  In addition, they offer a 30-Day Refund Policy. It is possible to request a refund within 30 days after having made your purchase. However, note that they may not grant a full refund if a client has accessed some additional services (such as legal citations, some help obtained from their customer support/care centre, filing instructions, etc.). Furthermore, they obviously cannot ensure that the customer's spouse is willing to sign the required documents. If you have not accessed any of the provided services, your request can be approved.
CompleteCase testimonials
Many reviews make note of extra expenses and delayed refunds. All such reviews were answered by CompleteCase representatives. Upon seeing negative reviews, the company gets in touch with their unsatisfied clients. Still, there is a doubt that CompleteCase would issue refunds is there were no negative comments posted by unsatisfied customers.
You can also find reviews that state that the company was not willing to provide any refund at all:

The author of another review even calls this website "a scam service". This client was not satisfied with the length of the divorce process and the performance of CompleteCase.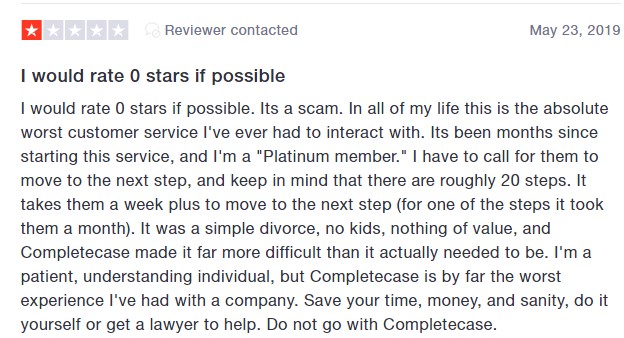 However, if you do some research on the Internet, you will find that Completecase.com reviews are more often positive than negative. For example, let's look at CompleteCase reviews posted on Trustpilot.com. Many reviews indicate that customer support representatives are incredibly friendly and compassionate. A screenshot of a positive CompleteCase review can be found below: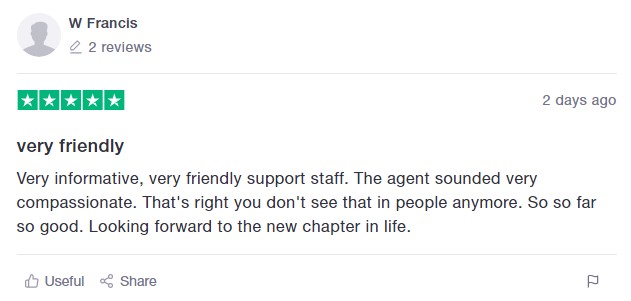 Another CompleteCase review also states that CompleteCase staff can be described as both friendly and professional, and reports that using CompleteCase divorce services is quite affordable: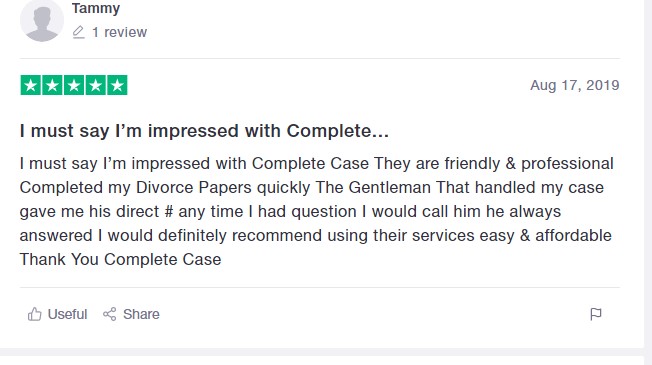 On the CompleteCase website, you will also find a range of reviews provided by their clients. The reviews on the website praise not only the service itself but also its usability. The website offers clients the option to read feedback and to watch video testimonials.

Verdict
In conclusion, it can be said that, on the one hand, CompleteCase is an easy-to-navigate service with many additional features. The service covers fifty American states, the District of Columbia, and Canada (excluding Quebec). CompleteCase also provides an approval guarantee. If something goes wrong, clients can get help from the customer support service. On the other hand, some reviews say that a refund might be delayed or not be paid at all. Furthermore, the price is above average.