As stated in the company's profile, its mission is to help couples in the United States deal with the breakup process with as little stress as possible and within a minimal timeframe. Simply put, they help American families to be more prepared for their post-divorce life.
This wevorce review will evaluate how effectively they carry out their mission and whether or not they can really help couples to get divorced faster than usual.
How does it work?
The main task of this website is to assist you with the completion of paperwork required for the dissolution. To achieve this, they suggest that couples go through several steps in order to do the job correctly. These include:
Providing the necessary information about your marriage to the company's experts through a questionnaire
Paying the required fee for the service
Waiting until your paperwork is completed by the website's specialists
Receiving the documents and getting further instructions on how the papers are to be filed with the court.
Even though everything here seems rather simple, customers may still have some additional questions for wevorce experts. If customers need to clarify some issues, they can reach customer service by email, phone or via live chat. All these channels of communication are available on business days from 10 to 4 PST.
What do they offer?
As stated by wevorce.com, their mission is to make sure that the legal process goes smoothly and at its own pace. Their main task is to guide their customers to the successful dissolution of their marriage. To achieve this, the company provides a number of services and additional tools such as:
Completion of divorce-related forms and papers
The help of mediators available for no more than 3 hours per month throughout the subscription period
Additional technologies and tools accessible free of charge
Instruments for the calculation of child support and solving other financial matters
Support with financial planning for divorcing spouses
Instructions on how the paperwork is to be submitted to the court.
In addition, wevorce also offers a special "divorce calculator" feature which is mainly intended for informational purposes. It's designed to help couples identify whether or not their relationship is likely to result in the breakdown of a marriage.
What does it cost?
Although this company offers many services to separating couples, their fees are high. In fact, the starting price for clients is $949. But depending on your personal circumstances, the exact price that you'll have to pay may differ from one case to another.
However, the above pricing policy applies only to initial subscribers to the website. Starting from the second month, the cost for their services is considerably less at $199.
The full divorce plan offered by the website usually includes many promising features. The major ones include:
Personalized approach to completing each phase of the process
Preparation of a marriage settlement agreement
Assistance with solving child-related issues
Optional help with the name change after the breakup
Customized instruments and various useful resources
Free editing and unlimited revisions for a period of 30 days
In addition, the company offers free instructions that are designed to help clients go through each step of the process correctly.
Guarantees
Despite all the positive things you might be expecting from this service, wevorce.com doesn't seem to have any money-back guarantees for clients. However, they guarantee complete support throughout the subscription period.
They also promise that they will walk you through the process from beginning to end. This may give you a bit more certainty and make you believe that you'll be guided on every step up until your breakup gets validated by the court.
However, all this comes at a high price in contrast to other websites that offer services at significantly lower prices.
Wevorce testimonials
Even though this site is among the leading and relatively popular online divorce companies across the nation, we couldn't identify a lot of reviews from real customers. From what we have found out, the testimonials are mostly positive and the majority of clients are satisfied with what they achieved in the end.
Many of the wevorce reviews indicate that users liked the customer service due to their compassionate attitude and timely help with various questions. What's more, in most cases, the actual collaboration process resulted in the successful completion of the legal proceedings.
On the downside, some customers might not be satisfied with the price for the services simply because it is not really affordable for everyone and is much higher than similar websites.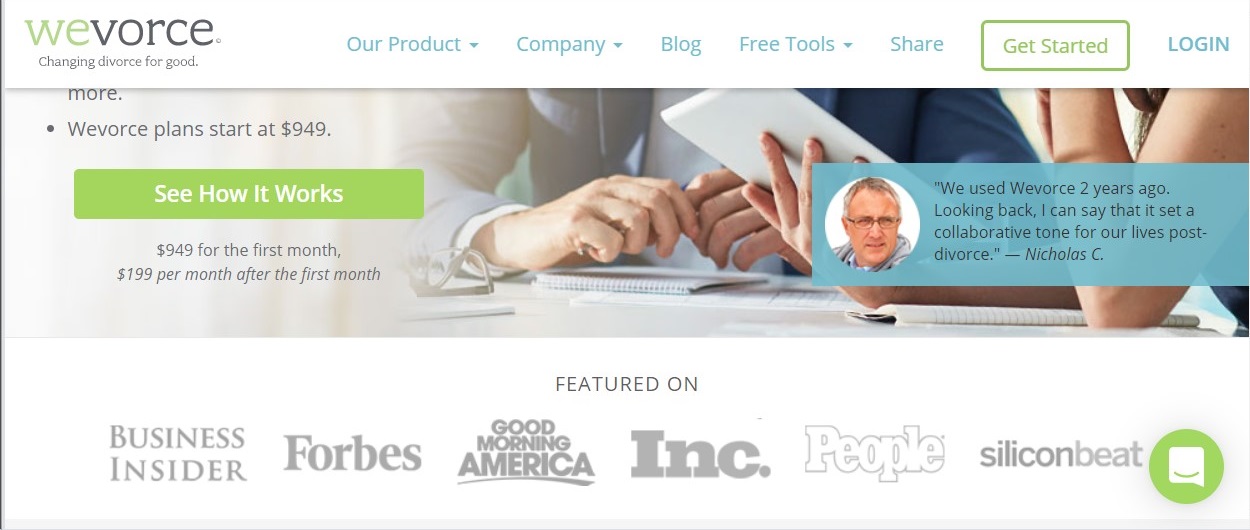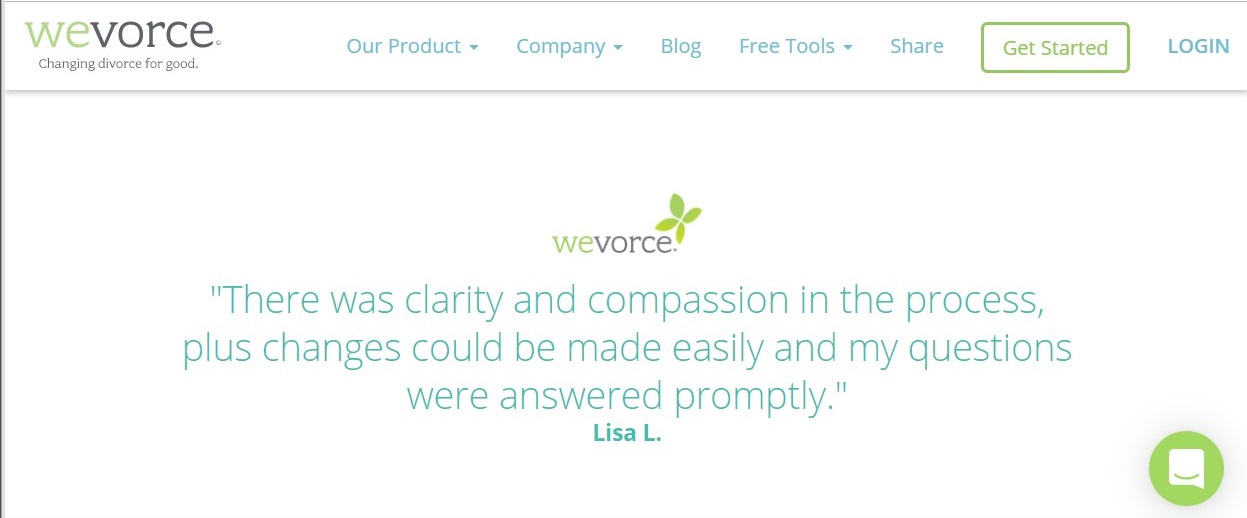 Verdict
This company claims to be not just a provider of various handy instruments for do-it-yourself divorce but also a trusted supporter of divorcing couples throughout the legal process. On the whole, it seems to be a dependable website that can help you achieve satisfactory results if you have decided to get divorced.
Their benefits include:
Free consultation with a professional at the very start of the process
Provision of extra tools and technologies for a smooth experience
Responsive and helpful customer service
As for the negatives, we can't help mentioning that the services of the site aren't very cheap, but they still won't cost you as much as the expenses required during traditional divorce.